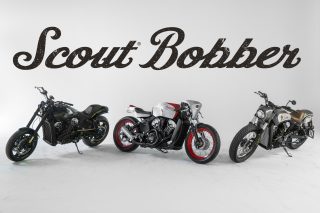 As the title sponsor of the ninth annual Brooklyn Invitational Custom Motorcycle Show, Indian Motorcycle unveiled three custom versions of the all-new Scout Bobber earlier this year.
The three bikes were built by Keino Cycles, Kraus Motor Co. and skateboarding icon Steve Caballero, in conjunction with Roland Sands Design.
Indian Motorcycle specifically partnered with these three highly regarded customisers, as each brings a uniquely distinct vision and signature style.
The end result was three totally unique custom interpretations of the Scout Bobber, which helps showcase how easily customisable the bike is and the versatility of the platform.
While Keino Sasaki and Satya Kraus carry long-standing reputations forged through years within the customisation and aftermarket industry, skateboard icon Steve Caballero has seen his profile increase steadily within the last several years thanks to his love for vintage American v-twins and his participation in festivals such as Wheels & Waves.
"Strip it down" was the mantra and the inspiration that Indian Motorcycle used when developing the latest model in its iconic Scout line-up. A low-slung, blacked-out, 94-horsepower, minimalist motorcycle that proves less is definitely more.
Here's a look at the three bikes in more detail: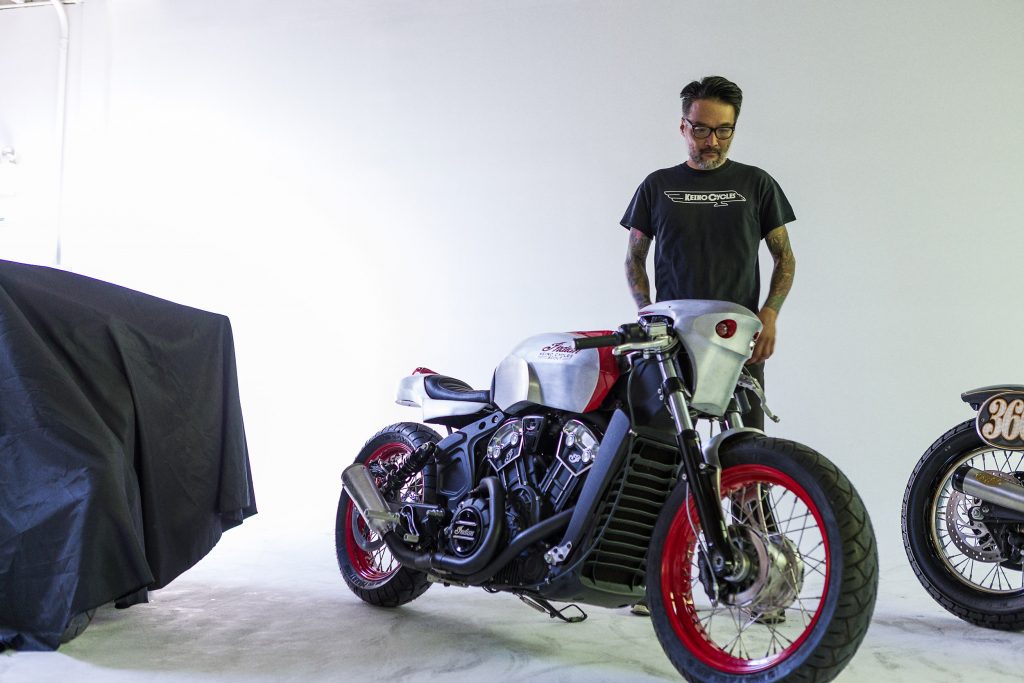 CUSTOMISER: Keino Sasaki / Keino Cycles
BUILD TIME: 6 Weeks
INSPIRATION: Harkening back to the 1950's, 60's and 70's, Keino's custom Scout Bobber was inspired by streamliner trains, airplanes and automobiles.
MODIFICATIONS:
Aluminum fuel tank
Front/rear fender
Front fairing
Exhaust pipes
Beringer inboard brake system
Custom spoke wheels
Stock Modified rear set foot control
BUILDER STATEMENT: "It was a great opportunity for me to work with the new Indian Scout Bobber with freedom of creativity and ideas. When I stripped the bike down to its main chassis, I knew it could go beyond its styling originally intended.  I hope this bike showcases the possibilities of the Scout Bobber with little imagination and creativity." – Keino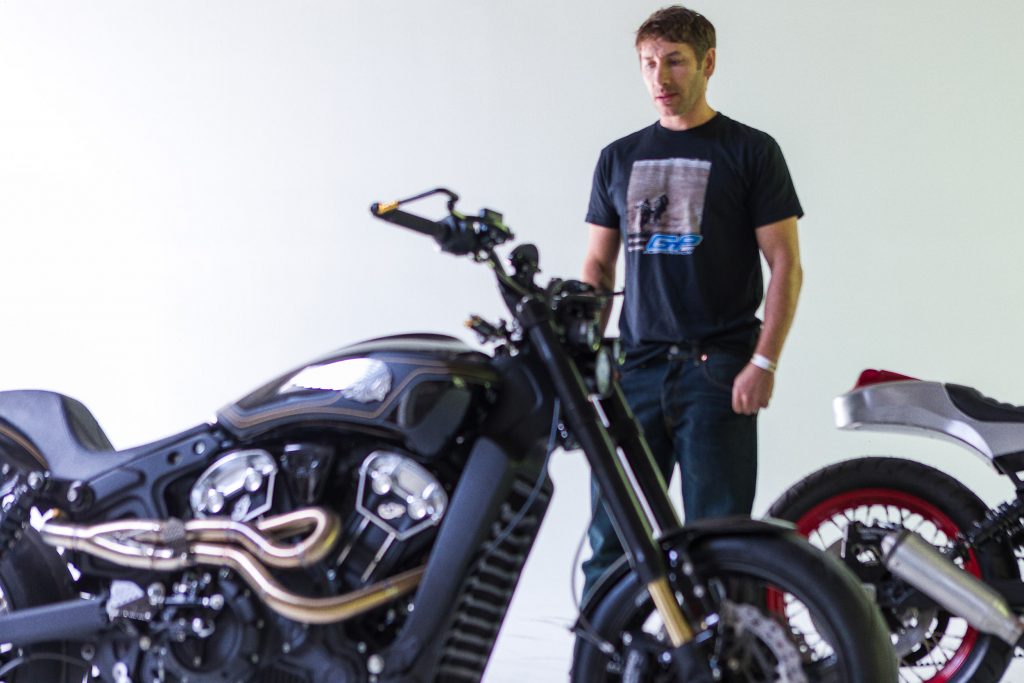 CUSTOMIZER: Satya Kraus / Kraus Motor Co.
BUILD TIME: 4 Weeks
INSPIRATION: Kraus Motor Co. was inspired by a new generation of motorcycle riders looking for quality and performance in their American motorcycle and aftermarket products.
MODIFICATIONS:
Inverted Front Suspension with Ohlins Forks
Beringer Radial Brake Caliper
Beringer Master Cylinders
320mm Brake Tech Rotors
Rotobox Carbon Fiber Wheels
Pirelli Tires
Clearwater LED Headlights
Linear Steering Damper
Kraus Isolated Risers
Moto Style Bars
Rizoma Mirror and Lever Guards
Custom Seat by Saddlemans
Billet Rear Shock Mount / Fender Struts
Ohlins Rear Shocks
Chain Drive
Rear Radial Brake Caliper and Oversize Rotor
Mid Foot Controls using Rizoma Components and Beringer Rear Master Cylinder
Taylor Schultz Paint Job
Stainless Steel 2 Into 1 Scrambler Inspired Exhaust Pipe Executed by Fab28 Ind.
BUILDER STATEMENT: "When we build on the foundations laid by tradition we are reminded to learn from the past and push the limits beyond what has been done.  Indian Motorcycle has opened the opportunity to recreate American made quality standards and performance.  Each Indian model platform has unique qualities that offer the aftermarket and consumer opportunities for customisations to easily reflect individual styles and designs.  It has been a complete pleasure to customise and build upon the foundation laid by Indian engineers." – Satya Kraus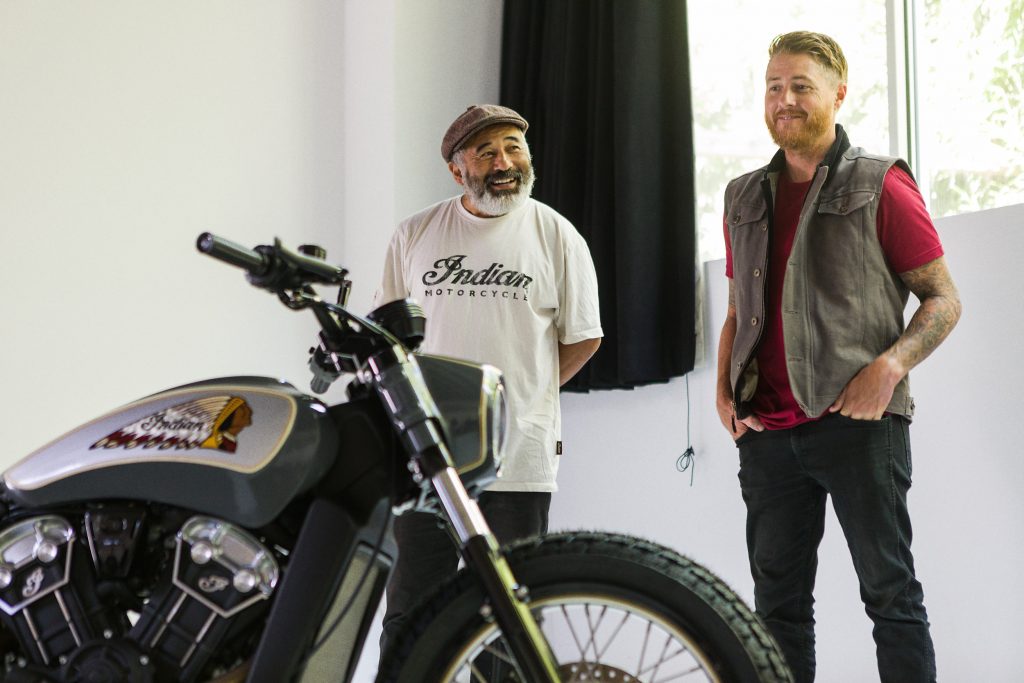 CUSTOMISER: Steve Caballero, in conjunction with Roland Sands Design
BUILD TIME: 3 Weeks
INSPIRATION: Steve Caballero's custom Indian Scout Bobber was inspired by the style and designs of a street flat tracker. Utilising Caballero's number 360, he worked with Roland Sands to feature a variety of RSD's premium offerings for a clean and classic look.
MODIFICATIONS:
Narrowed Gas Tank 6 Inches
RSD Enzo Solo Seat
RSD Hand Fabricated Aluminum Oval Number Plates
RSD Track Stainless Steel 2-into-1 Prototype Exhaust
RSD Custom Stainless Steel Mesh Radiator Guard
RSD Front Belt Guard
RSD Pulley Cover
RSD Rear Belt Guard
Front & Rear Wheel – Indian Spoked Hubs, Re-laced with Excel Rims (Pinstriped by Sonny Boy)
Front Tire – Dunlop DT3 Flat Track Race Tire (130/80-19)
Rear Tire – Dunlop DT3 Flat Track Race Tire (140/80-19)
RSD Traction Grips
RSD Radial Master Cylinder 9/16' bore (custom 1"-to-7/8" reducers)
RSD Radial Cable Clutch Perch & Lever (custom 1"-to-7/8" reducers)
RSD Mid Controls
Barnett Cables & Clutches
Renthal FA Tbar Handlebars
RSD Pullback Riser 1-1/8"
RSD Gauge Relocator
Turn Signals Removed with Custom Spacer
RSD tracker Fork Brace
0" Proressive Suspension 970 Series Reservoir Shocks
RSD Verticle Shock-mount Taq Bracket
Jesse Davis Pain
Sonny Boy Pinstriping & Indian Headdress and 12k Gold Leaf Work
Colors – Grigio Telesto with Brushed Silver Sides
Powdercoat Work by Specialized Coatings (Huntington Beach, CA)
BUILDER STATEMENT: "When we decided to customise a Scout Bobber for the Brooklyn Invitational I knew I wanted to work alongside Roland and his team at RSD. As a renowned bike builder, Roland has extended experience with the Scout platform and has a suite of offerings for the street flat tracker look we wanted to achieve." – Steve Caballero
# # #
ABOUT INDIAN MOTORCYCLE
Indian Motorcycle Company, a wholly owned subsidiary of Polaris Industries Inc. (NYSE: PII), is America's First Motorcycle Company. Founded in 1901, Indian Motorcycle has won the hearts of motorcyclists around the world and earned distinction as one of America's most legendary and iconic brands through unrivalled racing dominance, engineering prowess and countless innovations and industry firsts. Today that heritage and passion is reignited under new brand stewardship. To learn more, please visit www.indianmotorcycle.eu
MEDIA CONTACT
Dan Tye
PR Manager (EMEA)
Follow us on Twitter @IndianEMEA_PR
+44 7471 030606
press@indianmotorcycle.media