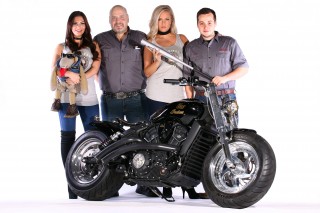 THUG captivates visitors at Motorcycle Live, winning the public vote to be crowned Project Scout UK Champion.
Indian Motorcycle dealerships across the UK were invited to build a customised Indian Scout or Scout Sixty in just 90 days in a partnership with the UK's national motorcycle show, Motorcycle Live.
Ten dealers took up the opportunity to show off their creations to an audience of 113,172 visitors with 1,905 of these voting for their favourite Project Scout by visiting the Indian stand during the nine-day-long show.
There were no rules or restrictions on the bike theme, cost or build style, but entrants had to use a minimum of three genuine Indian Scout accessories from the range of more than 200 items and at least one part from the following three leading aftermarket suppliers – Custom Chrome Europe, MAG Europe or Harrison Billet. These three suppliers gave huge support to the project by offering a range of parts to ensure that each Scout build was truly unique.
Commenting on the winning build Colin Treleaven dealer principal at Thor Motorcycles said: "We didn't want to build a handbag, fashion statement bike, it had to be something that hadn't been done before and it had to be a rideable bike, not a show pony.
"Most of the components were sourced by rooting through our stores and parts bins, aiming to keep the build as cost effective as possible. With the exception of the lighting, exhaust and a handful of official Indian accessories, anything that couldn't be found in our shop was hand fabricated. One of hardest tasks was creating a machined spline assembly that extended the front sprocket to convert the final drive to a chain. THUG goes as well as it looks and we'll definitely be riding it on the road."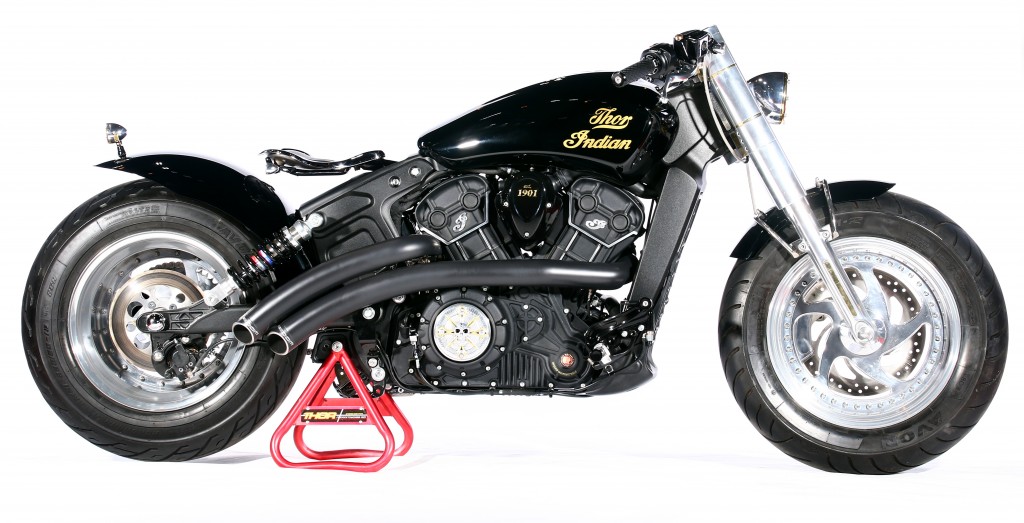 THUG secured over 20% of the 1,905 votes collected during the nine days at Motorcycle Live.
In second place was Midwest Moto's MWM-115 and in third place was Moore Speed Racing's Beach Tracker.
Indian Motorcycle's UK national sales manager Lee Frankish said: "We're overwhelmed by the public response to Project Scout UK at Motorcycle Live. This contest has been a great opportunity to celebrate the talent in our growing dealer network, while showing the personalisation potential of the Scout platform."
Visitors to Motorcycle Live who took part in the Project Scout vote will now be entered into a draw to receive a £500 Indian Motorcycle hamper containing branded apparel and accessories.
Here's the full list of the 10 entries and dealerships. Full specs of each build are in PDF format on the media site along with a few paragraphs explaining the inspiration for each build.
Tribute built by Alba Customs
Brian built by Blade Motorcycles
Foundry Scout Sixty built by Robinsons Foundry
Wild Horse built by HBC Motorcycles
Green Manalishi built by Krazy Horse
KH163 built by Krazy Horse London
Otekah built by Motorcycle Centre Orrell
Beach Tracker built by Moore Speed Racing
MWM-115 built by Midwest Moto
THUG built by Thor Motorcycles
Find out more about the Indian Scout and Indian Scout Sixty at www.indianmotorcycle.co.uk
Facebook: www.facebook.com/indianmotorcyclesunitedkingdom/
NOTES TO EDITORS
See detailed (and professionally shot) hi res images and specs sheets for all 10 Project Scout UK builds on our media site www.indianmotorcycle.media
To ask more questions about individual machines or to arrange interviews with the Project Scout UK builders, please email steve.cain@polaris.com
###
ABOUT INDIAN MOTORCYCLE
Indian Motorcycle, a wholly owned subsidiary of Polaris Industries Inc. (NYSE: PII), is America's first motorcycle company. Founded in 1901, Indian Motorcycle has won the hearts of motorcyclists around the world and earned distinction as one of America's most legendary and iconic brands through unrivalled racing dominance, engineering prowess and countless innovations and industry firsts. Today that heritage and passion is reignited under new brand stewardship. To learn more, please visit www.indianmotorcycle.eu
UK PRESS CONTACT
Steve Cain
+44 7916 371113
steve.cain@polaris.com
EMEA PRESS CONTACT
Dan Tye
Follow us on Twitter @IndianEMEA_PR
+44 7471 030606
press@indianmotorcycle.media