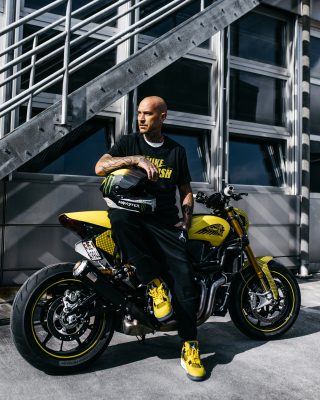 For the release of the Jordan AJ4 Retro "Tour Yellow" sneakers, the Titolo Sneaker Boutique teamed up with Danny Schneider of Hard Nine Choppers to honour Jordan's passion for motorsports. Titolo created a custom design for Danny's Indian Motorcycle FTR and teamed up with Image Design Custom for a one-of-a-kind, hand painted helmet. The bike's design features the classic AJ4 grid and the tour yellow colourway and the helmet has the iconic cement texture of the AJ4 which, this time, is also featured on the shoe box.
With this collaboration, it was a perfect opportunity to catch up with Danny and find out how he has been enjoying the FTR and what changes he had already made before teaming up with Titolo for this spectacular, bright yellow tribute to Michael Jordan.
"As soon as I saw the FTR when it was revealed back in 2019, I knew I had to have one and as soon as I was able to get a ride, I jumped at the chance. Normally, it takes me some time to get used to a new bike, but when I started riding the FTR, we clicked immediately. The frame setup, the riding position and the stance of the wheels, it was no struggle at all to get used to riding the FTR hard."
"I expected the FTR to be very different to what I normally ride, and expected it to feel quite alien, so finding out that the FTR not only looked great but that it was an instant fit for me was super cool. I really had to have one then."
"Of course, coming from the chopper scene, when I got the FTR to my shop, I got a lot of friendly jokes, like loads of jokes, from all my riding buddies. 'Ah so you're a street bike rider now, going to buy some fancy leathers and pretend to be a MotoGP racer?' things like that."
"So, I just said 'Sit on it, try it out, you'll be surprised.' We're all riders at the end of the day and they all wanted to have a go and soon the joking stopped. They were all super impressed after riding the FTR."
"I've fitted the Öhlins suspension kit from Indian Motorcycle and I've been tuning that for two months now – and I've got it where I like it, it's made a huge difference. I'm super confident on the bike. For me as an MX athlete from my past, suspension is key, I need the bike dialled in perfectly to ride at my full potential."
"Even in the fast curves I ride with a lot of revs and the speedo shows the RPM all the time, on my other bikes, I had to feel the rpm as no display as I like my customs super minimal. I thought I'd prefer the analogue dash, that I wouldn't like the big LCD display on the bars. But now, I love it and it's so easy to control my music with the display."
"The cruise control has also been great for when I'm riding and my hands get cold, a side effect of the chemotherapy I'm going through, I can set the cruise and warm a hand up on the engine/headers heatshields. The modes are also great and the ability to turn off/on the traction control. The brakes are also super good, the Brembo calipers and double discs really do the job."
"I don't want to say it, but as I approach 47, these creature comforts are things that you start to really appreciate. As much as I like my stripped back custom choppers, and I always will, for most of my riding now, I don't want a bike where everything is shaking and I have to check all the bolts and screws in case they've shaken loose – I want to ride, you know what I mean. I want to ride street legal and not to have to stop to every 20 minutes to fix something."
"The FTR is the perfect bike for that. It's in your head, when you know the bike is solid, you ride better. With the 17-inch wheels and the high-end adjustable suspension, you can really dial the bike into you and your style of riding. Confidence is everything when riding."
"The Öhlins has been the most important upgrade for me. I wanted the extra control and adjustment that the Öhlins give me – I'm a suspension fanatic. But I have started modifying already. Indian Motorcycle hooked me up with all the Carbon parts including the seat cover. I've put a Protaper motocross clutch lever on the FTR as I adjust the clutch lever a lot when I'm riding, and I've put some wider Protaper bars on that are a little bit higher."
"Jekill & Hyde made a pipe for me, before the new FTR was even out – they made a prototype so I had one as soon as I got the FTR. They built it in one week – amazing. A 2-into-1 system that works perfectly."
"I also removed the original number plate holder to an under seat one –and it's great that Indian Motorcycle thought about this and the wires to the original holder are the right length to re-route under the seat. I love details like that. Now, in the rain, my backside gets wet. – so that original carrier with that rear fender really worked. But, I'm not 50 yet – so I'm prepared to look cool and get a wet butt now and again – even when it's cold, wet and there is snow in the Swiss mountains."
Follow Danny and his FTR on Instagram.
For more information on Indian Motorcycle visit IndianMotorcycle.eu and follow along on Facebook, Twitter and Instagram.
###
ABOUT INDIAN MOTORCYCLE®
Indian Motorcycle is America's first motorcycle company. Founded in 1901, Indian Motorcycle has won the hearts of motorcyclists around the world and earned distinction as one of America's most legendary and iconic brands through unrivalled racing dominance, engineering prowess and countless innovations and industry firsts. Today that heritage and passion are reignited under new brand stewardship. To learn more, please visit www.indianmotorcycle.eu
INDIAN and INDIAN MOTORCYCLE are registered trademarks of Indian Motorcycle International, LLC. Always wear a helmet, protective clothing and eyewear and insist your passenger does the same. Ride within the limits of the law and your own abilities. Read, understand, and follow your owner's manual. Never ride under the influence of drugs or alcohol.
MEDIA CONTACT
Ian Austin
EMEA Press Indian Motorcycle
Follow us on Twitter @IndianEMEA_PR
+44 7471 030606
press@indianmotorcycle.media