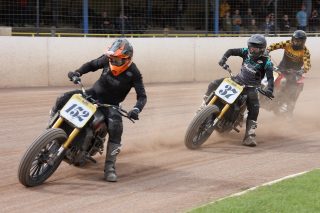 UNITED KINGDOM (13 August, 2019) – Leah Tokelove crowned queen of Dirtquake with her first DTRA Hooligan class victory in the UK. Krazy Horse race team Tokelove and Kirkpatrick back on track last weekend for the fifth round of the Indian Motorcycle DTRA Hooligan Championship.
Krazy Horse team riders Lee 'KP' Kirkpatrick (152) and Leah Tokelove (37) have been having a wild ride around Europe this summer on Indian Motorcycle's all new FTR1200, expertly prepared for the demands of Hooligan racing by US performance engineering specialists S&S Cycle Inc.
Striking a purposeful silhouette in the flat track paddock, the Indian FTR1200 Hooligan machines feature a shortened swing arm assembly mated to Fox racing suspension, a tubular steel rear sub-fame with carbon seat-unit conceals the hand made aluminum fuel tank and key electrical items including a lightweight li-ion race battery. Front end geometry is improved by FTR750 inspired, billet aluminum, fully adjustable triple trees and Roland Sands Flat Track wheels complete the package, wrapped in Dunlop DT3 control tyres.
Tokelove and Kirkpatrick both looked highly competitive as racing got underway at Arlington Speedway Arena, the Dirtquake spectacle of wacky races hiding mounting expectations from the crowd; who were willing the Indian riders to set a fast pace in the FTR1200's racing debut in the UK. Neither rider was going to be content with runner-up, showcasing the purpose built Indian Hooligan Machines on home soil.
Heat races got underway in perfect conditions, light breeze and muted sunshine kept the Arlington shale circuit from drying out and marbling too quickly allowing both Indian riders to lay down some blistering laps; the competitive nature of the top level Hooligan riders saw unprecedented bar-to-bar action with Tokelove and Kirkpatrick jostling through the field in gladiatorial style.
The Hooligan final was all to play for with Tokelove and Kirkpatrick both looking strong for the win alongside the series premier competition riders, no one was going to give an inch into turn one as Kirkpatrick's holeshot put him ahead of the series leader with Tokelove following closely in third. Lap after lap the top riders swapped position in an epic dogfight; with Tokelove pushing hard, swapping paint on her Hooligan machine to force her way to the front of the field with two laps remaining, much to the pleasure of her screaming fans at trackside. Tokelove maintained her cool on the tight circuit despite repeated challenges, tasting victory, Leah gave the FTR1200 full throttle, fully committed, she pushed the FTR deep into the apex of turn one on the final lap pulling clear of the pack to take her first ever Hooligan class win in the DTRA series.
DirtQuake continues to offers amateur flat track riders an unprecedented opportunity to ride alongside the professionals with big names strapping on a steel shoe to experience the thrills of the shale speedway arena. A spectacular array of Hooligan racers, Street Trackers, Choppers, inappropriate road bikes and classic machinery took part in the action, sliding sideways for DirtQuake fame and TV glory!
• See all the action (on UK television only) on Wednesday 14th August, 8pm, ITV4, it's going to be a belter!
NOTES TO EDITORS
For more information about Indian Motorcycle's Hooligan racing programme and rider interviews contact Steve Cain direct on +44 7916 371 113 or steve.cain@polaris.com
Please give photo credit to Paul France
###
ABOUT DIRTQUAKE
DirtQuake is the inclusive festival of motorcycling that sees professional and amateur riders, plus celebrities from across the world of motorcycling, race flat track for the fun of it. With rare and unique bikes, family activities and star names, DirtQuake attracts a diverse crowd of motorcycle fans to enjoy a weekend centered on the racing which is the heart of the event.
ABOUT INDIAN MOTORCYCLE
Indian Motorcycle, a wholly owned subsidiary of Polaris Industries Inc. (NYSE: PII), is America's first motorcycle company. Founded in 1901, Indian Motorcycle has won the hearts of motorcyclists around the world and earned distinction as one of America's most legendary and iconic brands through unrivalled racing dominance, engineering prowess and countless innovations and industry firsts. Today that heritage and passion is reignited under new brand stewardship. To learn more, please visit www.indianmotorcycle.eu
MEDIA CONTACT
Ian Austin
EMEA Press Indian Motorcycle
Follow us on Twitter @IndianEMEA_PR
+44 7471 030606
press@indianmotorcycle.media