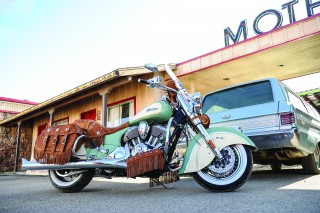 There has never been a motorcycle better suited to two-tone paint schemes than the fully-fendered Indian Chief, and that is exactly what Indian Motorcycle, America's first motorcycle company, announced today in a sneak preview of its model year 2015 lineup.
The much-anticipated two-tone paint schemes were on-display over the weekend at Vintage Motorcycle Days 2014 in Lexington, Ohio.
The new two-tone line-up showcases the full potential of combining the Chief's American motorcycle heritage with 21st Century technology.
More details and information on all 2015 models, including features and pricing will be announced on August 2, when the new two-tone Chief Classic, Chief Vintage and Chieftain will be on-display and ready for demo rides during the upcoming Sturgis Motorcycle Rally, which runs August 2 – 9 in Sturgis, South Dakota.
Featured Two-Tone colours for 2015 are:
– Indian Motorcycle Red and Thunder Black: Indian Chief Classic, Indian Chief Vintage and Indian Chieftain
– Indian Motorcycle Red and Ivory Cream: Indian Chief Vintage and Indian Chieftain
– Willow Green and Ivory Cream: Indian Chief Vintage
– Springfield Blue and Ivory Cream: Indian Chieftain
"Two-tone paint schemes are among the most iconic elements of vintage Indian motorcycles dating back about 80 years, giving the bikes a look and feel that is instantly recognizable and beloved by motorcycle fans," said Steve Menneto, VP of Motorcycles for Polaris Industries.
"It is an honour to reintroduce two-tone paint for our 2015 Indian Chief models. These paint schemes pay tribute to Indian bikes of the past but come coupled with the exceptional technology and power that the Chief lineup offers. They are simply stunning, and the quality and craftsmanship of the paint jobs is exceptional. We're excited to share these beautiful bikes and more news with our fans on August 2nd."
Editors Notes:
European consumers will have to wait just a little longer to see the two-tone paint for themselves.
Indian Motorcycle will preview the paint schemes at European Bike Week, held annually at Faaker See, Austria, between 2-7 September 2014.