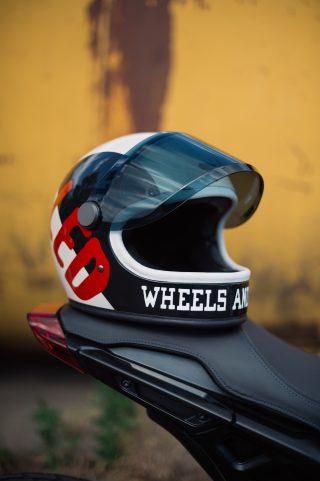 A chance to own a real collector's edition with just 50 helmets made.
Bring the spirit of Wheels & Waves to your ride.
With the news that the 10th edition of Wheels & Waves has had to be cancelled due to increased COVID restrictions, Indian Motorcycle, Wheels & Waves and Hedon Helmets have announced a competition to win Limited-Edition helmets to keep the spirit of Wheels & Waves alive.
Designed in collaboration with Wheel & Waves. Just nine of the helmets will be available to win out of a very exclusive run of 50 being produced, making this an exciting opportunity to win a real collector's item, and giving riders who can't visit Biarritz this year a chance to own something that celebrates the essence of the festival – the creativity, self-expression and culture surrounding moto culture.
Announced earlier this month as part of a celebratory apparel collection, the exclusive Hedon Helmets and apparel celebrate three special anniversaries; the 120th anniversary since the establishment of Indian Motorcycles in 1901,10 years of Wheels & Waves and the 5th year of Indian Motorcycle as headline sponsor of Wheels & Waves which continues a 6-year partnership.
Designed by Jérôme Allé, co-organiser of Wheels & Waves in collaboration with Lindsay Chong, Co-founder of Hedon, and Alain Rehm who stylized the FTR in the UNRIVALLED design, the nine helmets in the competition will be awarded to one randomly selected winner from each of the participating countries listed below.
Participating countries:
• Belgium
• France
• Germany/Austria
• Luxembourg
• Netherlands
• Portugal
• Spain
• Switzerland
• United Kingdom
This competition is open to all residents of these countries with entry as simple as visiting the website below:
Where they just enter their full name, email address, country of residence and confirm that they have read the terms and conditions listed on the website. It really is that simple.
###
ABOUT INDIAN MOTORCYCLE®
Indian Motorcycle is America's first motorcycle company. Founded in 1901, Indian Motorcycle has won the hearts of motorcyclists around the world and earned distinction as one of America's most legendary and iconic brands through unrivalled racing dominance, engineering prowess and countless innovations and industry firsts. Today that heritage and passion are reignited under new brand stewardship. To learn more, please visit. To learn more, please visit www.indianmotorcycle.eu
INDIAN and INDIAN MOTORCYCLE are registered trademarks of Indian Motorcycle International, LLC. Always wear a helmet, protective clothing and eyewear and insist your passenger does the same. Ride within the limits of the law and your own abilities. Read, understand, and follow your owner's manual. Never ride under the influence of drugs or alcohol.
ABOUT WHEELS & WAVES
Founded in 2008, Wheels and Waves is the successful realisation of the dream of a group of friends, the Southsiders, who are passionate about motorcycles. Lovers of the Basque Country, Southsiders have brought together hundreds of like-minded individuals who gather in the spirit of companionship. "Wheels and Waves is about eliminating social barriers and bringing different sets of people together without judgement. It's about the joy of mixing together all kinds of communities, languages and cultures. It's about living in the present without being nostalgic for the past, but not losing sight of the best moments of the past." www.wheels-and-waves.com
INDIAN MOTORCYCLE MEDIA CONTACT
Ian Austin
EMEA Press Indian Motorcycle
Follow us on Twitter @IndianEMEA_PR
+44 7471 030 606
press@indianmotorcycle.media
WHEELS & WAVES MEDIA CONTACT
Benjamin Monge
+ 33 6 77 67 52 17
benjamin@wheels-and-waves.com