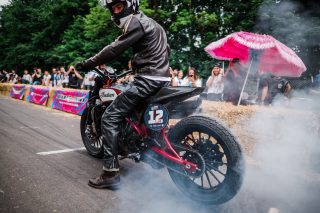 The FTR1200 Custom takes 1st place in its debut sprint race
Crowds in Italy wowed by the power (and sound) of the FTR1200 Custom
Next stop is the Bike Shed London this coming weekend
[MONZA, ITALY] – Indian Motorcycle is celebrating after its FTR1200 Custom took 1st place in the Sultans of Sprint race at Monza at the weekend.
The FTR1200 Custom, first unveiled at EICMA, finished its tour of the USA a few months ago and has now been shipped over to the European market to begin a tour of events and sprint racing.
The bike has entered the Sultans of Sprints' newly formed Factory Class and over the course of the year there are four rounds with the first of these just held during the Italian biker festival 'The Reunion' at the Monza circuit over the weekend.
Poor weather on the Saturday meant that the racing was delayed until Sunday, and with a dry drag strip, the competitors were all eager to get out and duel with each other.
The first set of sprints is decided by a paper draw and the FTR1200 Custom, ridden by Lorenzo Nisi from Egimotors (the Italian distributor for Indian) faced the BMW R nine T "Little Go Beep" from Team Krautmotors and ridden by Rolf Reick #19 – an easy win.
Next, Indian was up against the Yamaha XSR 700 "Sakura" from Team Workhorse Speedshop and ridden by Andy Geeroms #8 – it was close.
This meant Indian went in to the final against Spitfire, a BMW R1200 R by Team VTR Customs ridden by Amelie Mooseder #85 – and this was a very close finish.
There was an overwhelming response from the public to seeing the FTR1200 Custom actually in action. People were constantly taking photos and asking Indian if it will build this bike.
Vice President / General Manager EMEA for Indian, Grant Bester said he could not have wished for a better weekend to premier the FTR1200 Custom at Monza. He added: "The bike had as much attention as a visiting celebrity, people asking us non-stop if we would build this bike. It's fair to say that we had a number of raised eyebrows when we entered our "flat-track inspired custom" in to sprint racing without slick tyres, so taking first place is testament this amazing bike and the great team at Indian Motorcycle. There is no doubt that a number of Italians at the event have re-thought their Christmas wishlist after seeing the FTR1200 Custom in action!"
The founder of the Sultans of Sprint series, Sébastien Lorenz said: "The weather was not on our side on Saturday and the race was postponed until the Sunday, thanks to the support of Matteo at The Reunion and the great work of our Race Management Crew."
"The new Factory Class fulfilled our expectations with awesome sprint racers and thrilling races, proving the power-to-weight ratio concept worked as planned. All participating bikes in the Factory Class have been successfully tested on the dyno and have been weighed (including the rider) before each race. The battles on the drag strip are tight, but always fair."
"The big surprise for all of us was the performance of the Indian FTR1200 Custom. Despite having knobby tyres fitted, Lorenzo Nisi managed very good starts and won in the final against the BMW "Spitfire" from team VTR Customs ridden by Amelie Mooseder."
"When it came to the "Party Monster Bonus" we were also super pleased and glad to have Grant Bester and Melanie Dubois from Indian take part to our limbo contest on Saturday night… great times and an insane party at the Sultans of Sprint booth."
Results in the Factory Class race:
1st FTR1200 Custom by Indian Motorcycle, Rider Lorenzo Nisi
2nd Spitfire (BMW R1200 R) by BMW Motorrad, Rider Amelie Mooseder
3rd BMW "Polizia Uno" by VTR Customs, Rider Dani Weidmann
The FTR1200 Custom is next in action at Biker's Classics in Spa in July, then Glemseck in early September and finally the Dandy Riders festival in France in late September.
Indian also plans to have the bike on static display in the UK at The Bike Shed and during Wheels & Waves in France.
Race 1 at The Reunion, Monza, Italy, 19th to 20th May
Race 2 at Bikers Classic, Spa, Belgium, 30th June to 1st July
Race 3 at Glemseck, Germany, 30th August to 2nd September
Race 4 at Dandy Rider's Festival, 22nd to 24th September
FTR1200 Custom web pages:
UK > http://www.indianmotorcycle.co.uk/flat-track-race/ftr-1200-custom/
Spain > http://www.indianmotorcycle.es/flat-track-race/ftr-1200-custom/
Germany > http://www.indianmotorcycle.de/flat-track-race/ftr-1200-custom/
France > http://www.indianmotorcycle.fr/flat-track-race/ftr-1200-custom/
Photo credit: Marc Holstein
# # #
NOTES TO EDITORS
Since the FTR1200 Custom was unveiled at EICMA in 2017, Indian has seen over thirty thousand comments on social media about the bike, so Indian has decided to bring it to Europe to compete in the Sultans of Sprint races and ask our EU fans the all-important question: "Should Indian build this?". With #speedisoureligion as its hashtag, the Sultans of Sprint series bring together the best bike builders from the new custom bike scene in Europe in to race and to party at key festivals in Italy, Belgium, Germany and France. The series has a number of categories of sprint racing, with the Scout FTR1200 Custom able to enter the Factory Class. In this Factory Class, motorcycles must be four-stroke (air or water cooled) and there is no limit regarding the engine capacity providing that the tuned bike does not exceed a specific power-to-weight ratio. Bikes in the Factory Class can either be customised by private workshops or can be entered by a manufacturer as an 'in house' custom built racer. The sprint racing has a points system that rewards not only for the racing, but also for the style, craziness and creativity of the teams taking part. Points are rewarded as follows.
10 points for participating in each event
10 points for winning a sprint round
35 points for a first place in the race
34 points for a second place in the race
33 points for a third place in the race
Double points for the last race event
Editors from Motociclismo magazine (Italy) got to try out the FTR1200 Custom too, with a feature appearing in their next issue on 30th May. Journalist Nicolo Cordognola said: "I tested the bike on Friday afternoon. Well…it's gorgeous! I liked the engine a lot, very powerful and gutsy with unmistakable character too. Great sound from the pipes, almost deafening, to scare rivals during the sprint race. I detected remarkable handling and lightness and, of course, charming style. We're all very impatient to see if a street legal version of this comes out very soon."
ABOUT INDIAN MOTORCYCLE
Indian Motorcycle is America's first motorcycle company. Founded in 1901, Indian Motorcycle has won the hearts of motorcyclists around the world and earned distinction as one of America's most legendary and iconic brands through unrivalled racing dominance, engineering prowess and countless innovations and industry firsts. Today that heritage and passion is reignited under new brand stewardship. To learn more, please visit www.indianmotorcycle.eu.
CONTACT
Dan Tye
PR Manager (EMEA)
Follow us on Twitter @IndianEMEA_PR
+44 (0) 7471 030606
press@indianmotorcycle.media