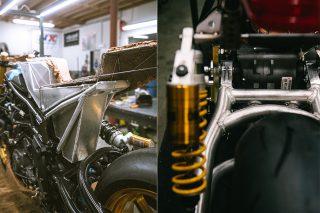 Build Q&A with Brice Hennebert
Brice Hennebert, owner of Workhorse Speed Shop, has not wasted his time during lockdown. After creating Appaloosa V1.0 in 2019 for the Sultans of Sprint then re-working the Indian Scout build into Appaloosa V2.0 for the Baikal Mile Ice Festival, Brice has focussed his attention on building two special dream bikes from the Indian FTR.
We caught up with Brice to get an insight into his latest projects, both of which are shaping up to be remarkably interesting, but quite different builds – just as we have come to expect from Workhorse.
It's been a long time since you came back from Russia after taking Appaloosa V2.0 to the Baikal Mile Ice Speed Festival – that must feel like a dream now, are the memories still strong?
Yes, the memories are really strong. With the lockdown, it was some time after coming back from Russia that I saw many of my friends. Every time I reconnect with a friend they always ask about the trip. So, I get to relive the memories regularly and so they are still strongly alive.
And when Appaloosa finally got back to Belgium after the Russian borders reopened, unpacking the bike and reassembling it meant I got to relive the memories all over again.
Obviously, lockdown has changed the way we all work, but you have still been busy with brand-new builds based on the FTR. What are the concepts behind each project?
The concept for the first build, Black Swan, came a few years ago when I was racing at Wheels & Waves against the Miracle Mike Scout built by The Young Guns. During that time, I had the vision to build a sports bike for road use. But, really sporty, built like a GP bike. It's deeply inspired by 90's sports bikes, all made from carbon fibre. That's what happens when I have total freedom from the commissioners of a project. And I'm even thinking about doing a small series of this bike for sale. It's pretty unique!
The second FTR project is based on the 80s era AMA SBK race bikes and Rally cars. Black Swan and the FTR AMA project are for two brothers. The brother that commissioned Black Swan asked me to design a second build for his brother. Something colourful but sharp like a war tank. The only restriction was that it should have a Martini Racing livery.
After a little research and brainstorming, the main influence became the Lancia Delta HF. I've mixed this with a bit of the early Bol d'Or race bikes and some muscle bike flavour keeping an upright riding position, close to the original FTR which works so well.
With the Appaloosa v1.0 and v2.0 builds, you had some great partners providing advice, components, fabrication, and tuning skills. Who has stepped up for these FTR builds?
All of them and even more. I went to the Akrapovič factory a few days after the Baikal Mile to work on the Black Swan exhaust. I crossed the border to go home for a few hours and they decided to close the border. That was tight.
Öhlins have shipped me a full set of custom components for Black Swan, quite impressive I have to say. Beringer Brakes is also in the game on both bikes with their new 4+ system. Super light, super nice.
I'm also working with Vinco Racing in Holland, Tim is taking care of all the CNC parts around both bikes. And there's many of them.
My buddy Robert Colyns from 13.8 Composite is taking care of the carbon fibre fabrication.
On Black Swan, we will be fitting Rotobox carbon fibre wheels, they really are pieces of art! Liteblox Germany have made a bespoke carbon fibre battery for the bike, Cerakote Nl did all the black ceramic treatment. Jeroen from Silver Machine the seat works. Christophe from Forame design did all the 3D modelling from the Clay scan.
The FTR AMA wheel set is a total eye catcher. I collaborated with Fabio from JoNich Wheels in Italy. The design is based on his Rush wheels but without carbon flanges. They are machined from billet aluminium. And the design made me think about the turbo fans wheels used on the racing Lancia, so that was a perfect choice. They are completed by a Dunlop GP tyre set with this mad 200 section rear tyre.
So, as you can see, I'm not alone on this bike.
We can't reveal too much at this stage, but from the pictures from the builds so far, designing the bodywork seems to be a fairly intensive process. Can you walk us through the steps, from visualisation and sketches through to a finished piece of the bodywork?
Yes, it's quite a long journey, here's roughly the stages for Black Swan:
First, preliminary sketches and a compilation of reference pictures for the details. At this stage I'm drawing the main lines of the bike, the mood.
Then I sent everything to Benny at Axesent in Japan to make proper renders in several versions, with realistic lighting and some livery ideas.
When I was happy at this point, I started 3D modelling. I modelled the bike at full scale in clay directly on the FTR, but only on one side of the bike. This step took about 6 weeks, between the clay structure and perfecting the final shape.
Then I scanned the bike in 3D to start the CAD modelling stage. The scan was used as a starting point to be sure of the proportions, but there was always freedom for new ideas. In the meantime, I worked on the symmetry, details, articulated parts, and assembly systems between the different elements. All told, another 2 months of work.
The next step went to 13.8 Composites. Firstly, they 3D printed all the bodywork from the CAD models. These prints were used as a master for moulding and creating the die that the carbon fibre was laid into.
Once done, adjustments were made between all the parts to be sure that it all fit together and looked perfect.
With the FTR AMA build, rather than start with the clay, here I used direct CAD design based on a 3D scan of the FTR chassis. Then all the body parts were 3D printed and reinforced with carbon fibre.
Is this a process that you have used before? You seem really keen, on every project, to try something new and expand your skill set.
This was something totally new to me, at least at this scale. I have done clay shaping before, but not on something so complex.
The bodywork is bound to be the main focal point when people first see the bikes, but what else can you reveal about the builds at this stage?
The body of Black Swan is just 1.8 kg for the entire bike. I've also decided to fit a few accessories such as a quick shifter and Power Commander. The idea is to initially test the bike with the standard performance in the racing configuration (position, bodywork etc.) 123 hp is enough for road use today in Europe. And if the owner of the bike needs more power then we will go into the engine.
On the FTR AMA, there are two aluminium fuel cells to reach a total capacity of 14 litres aluminium with one of the tanks under the seat. Plus, the intake has been redesigned and 3D printed to work with DNA performance air filters. On the chassis side, the tail section has been modified to fit a twin shocks system powered by Öhlins.
Plans are progressing on when and how the bikes will be revealed, but they will certainly make an impact.
Yes, with the events calendar being difficult to predict over the last few months, we've had to come up with several plans. I really can't wait to see the response to these two bikes.
Follow Brice on Instagram at @workhorse_speedshop and Facebook at @workhorsespeedshop.
For more information on Indian Motorcycle visit IndianMotorcycle.eu and follow along on Facebook, Twitter and Instagram.
###
ABOUT INDIAN MOTORCYCLE®
Indian Motorcycle is America's first motorcycle company. Founded in 1901, Indian Motorcycle has won the hearts of motorcyclists around the world and earned distinction as one of America's most legendary and iconic brands through unrivalled racing dominance, engineering prowess and countless innovations and industry firsts. Today that heritage and passion are reignited under new brand stewardship. To learn more, please visit. To learn more, please visit www.indianmotorcycle.eu
INDIAN and INDIAN MOTORCYCLE are registered trademarks of Indian Motorcycle International, LLC. Always wear a helmet, protective clothing and eyewear and insist your passenger does the same. Ride within the limits of the law and your own abilities. Read, understand, and follow your owner's manual. Never ride under the influence of drugs or alcohol.
MEDIA CONTACT
Ian Austin
EMEA Press Indian Motorcycle
Follow us on Twitter @IndianEMEA_PR
+44 7471 030606
press@indianmotorcycle.media