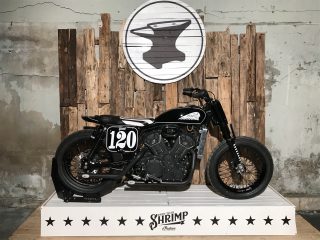 San Marco and Phonz build 'Shrimp' out of a Scout Sixty in tribute one Indian's earliest racers Albert Burns
[BIARRITZ, FRANCE] – Anvil Motociclette, the Italian custom bike builder, has unveiled its latest project at Wheels & Waves today, a flat tracker they've called Shrimp.
The bike was built from an Indian Scout Sixty and pays tribute to one of Indian's earliest heroes, Albert 'Shrimp' Burns, whose story started at the age of 14 and ended at 23 in a racing accident (read more about him here).
The guys behind Anvil Motociclette, San Marco and Phonz, have painstakingly built this flat tracker over the past six months, putting in 300 hours of work in to the build with a team that included a framebuilder, engineer, mechanic, assembler, upholsterer and body shop mechanic.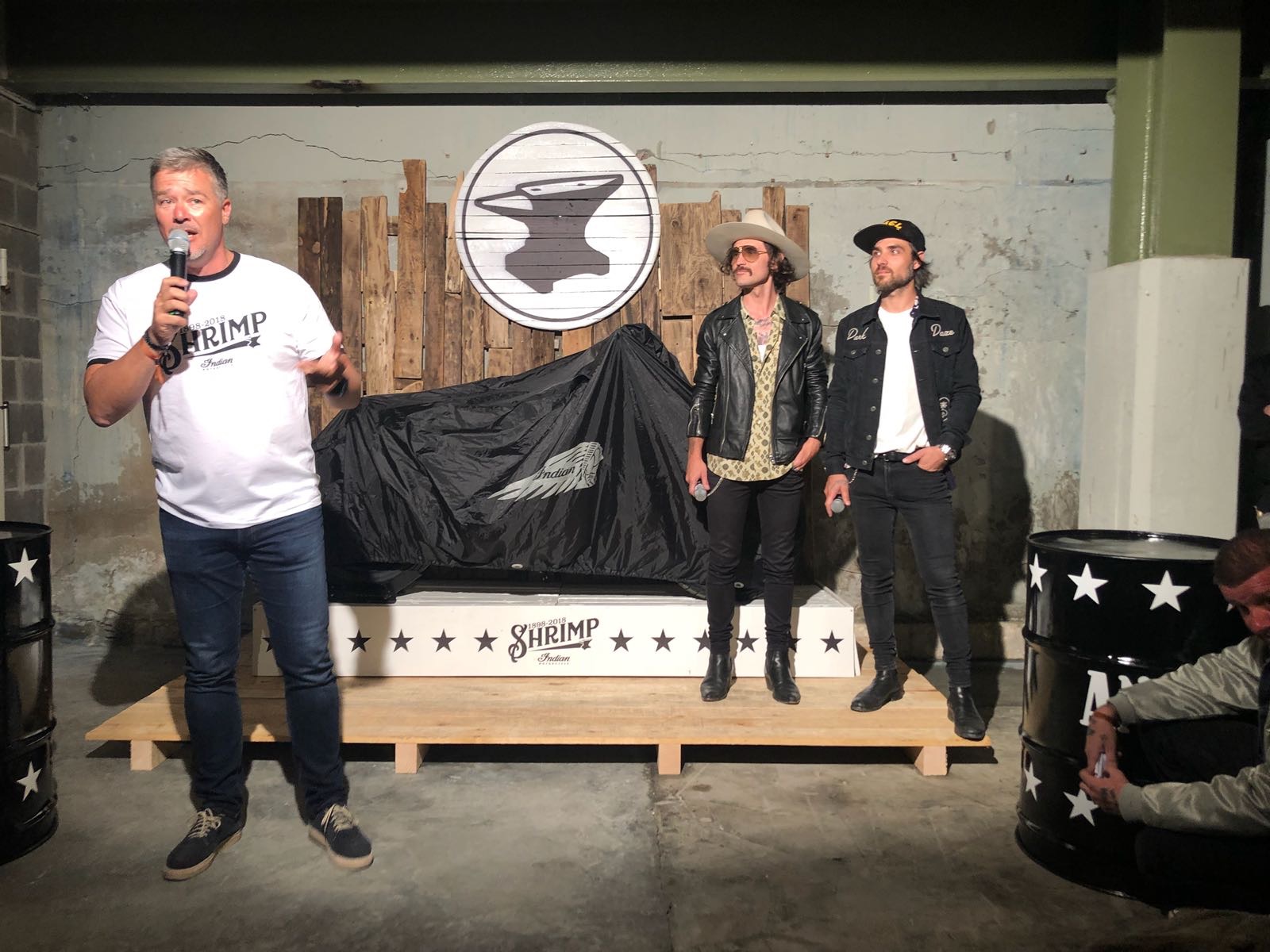 It was unveiled on Thursday evening during the Artride exhibition at the Wheels & Waves festival (that continues until Sunday). The bike isn't just for show either; Anvil intends to race Shrimp this coming Saturday in the El Rollo flat track race, and will be ridden by the talented Italian flat track rider, Emanuele Marzotto.
'Shrimp' is a machine with a blend of modern-day parts from leading brands combined with handmade and handcrafted frames, panels and components. Anvil says they chose Ohlins, Pakelo, Zard and Newfren as partners for the project, since "they are reliable and they have great experience".
The stages of the build were: research and development of the main theme, research of the bike storytelling, research of the rider to match with the bike, project planning, technical research about engineering and building, 3D design and finally the building of the bike.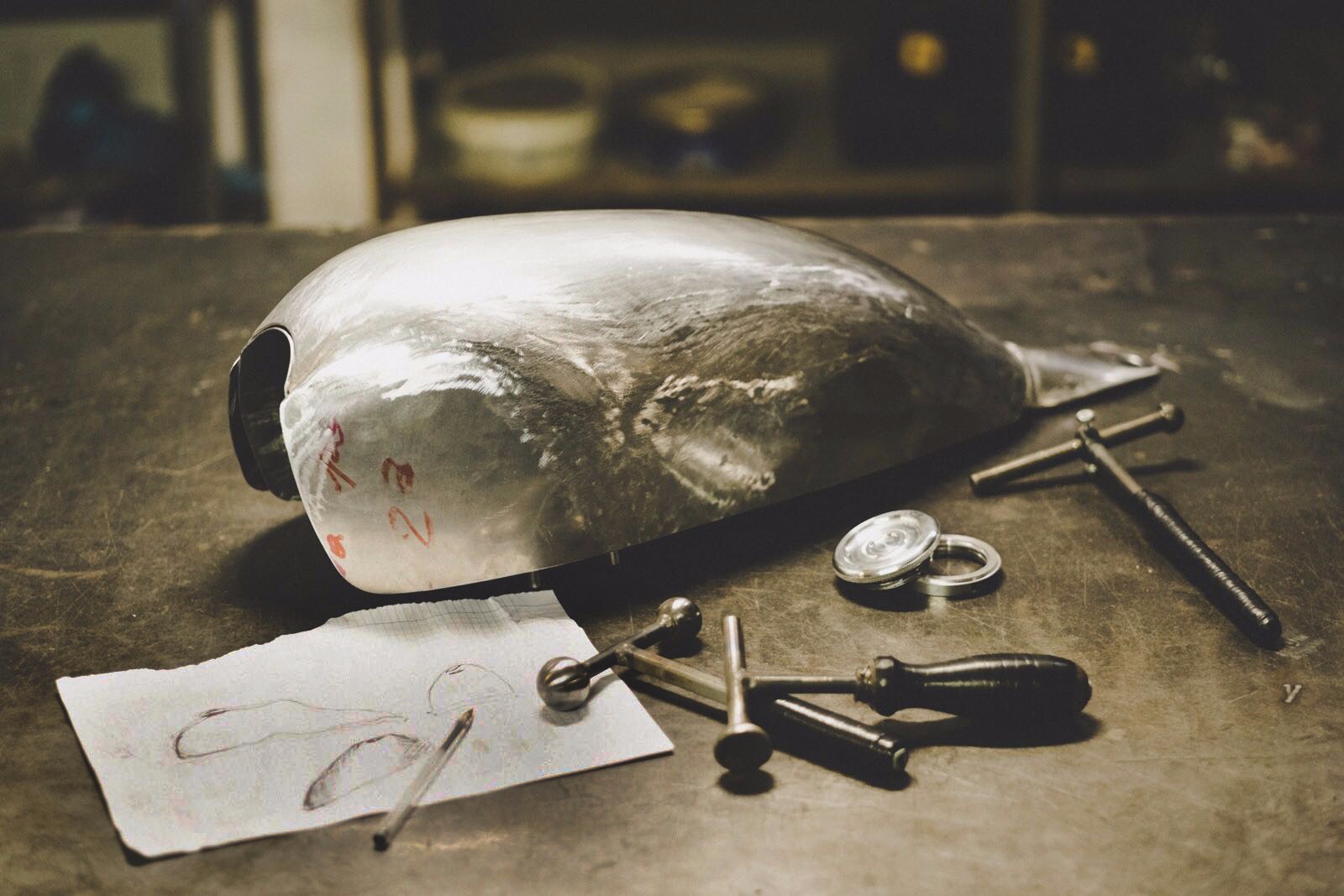 San Marco and Phonz are particularly proud of the fuel tank, the race plates and the fenders that have all been handmade in steel. "It's been an amazing experience for us, we had it clear in our minds about our project from the beginning and we followed it," they say. "We've been inspired by Albert 'Shrimp' Burns, so his story made us strong and focused on the final outcome. This is more than a bike for us, it is part of our lives as customisers and as a creative studio."
Many of Anvil's previous projects have originated out of historic motorcycling characters and San Marco says: "What we loved about Shrimp's story was that he was very young, but had great determination. His personality and perseverance in his short but thrilling life is inspiring."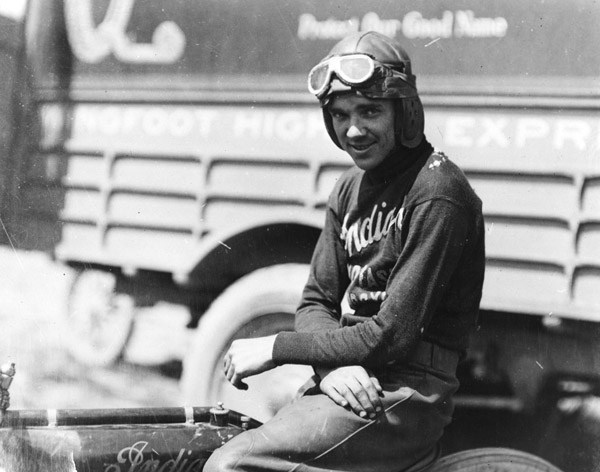 Phonz adds: "One of our greatest passions is to read about motorcycle history. During our research we found out about Shrimp's story and we were suddenly fascinated by him. Not many people know about Shrimp's story, but we think all passionate bikers should know about him."
Anvil took delivery of the Scout Sixty in February and set about stripping the 1133cc V-twin out of the frame and building up something completely new, paying tribute to flat trackers of the past. This part of the story will be taken that step further with Emanuele Marzotto actually racing the bike this coming Saturday.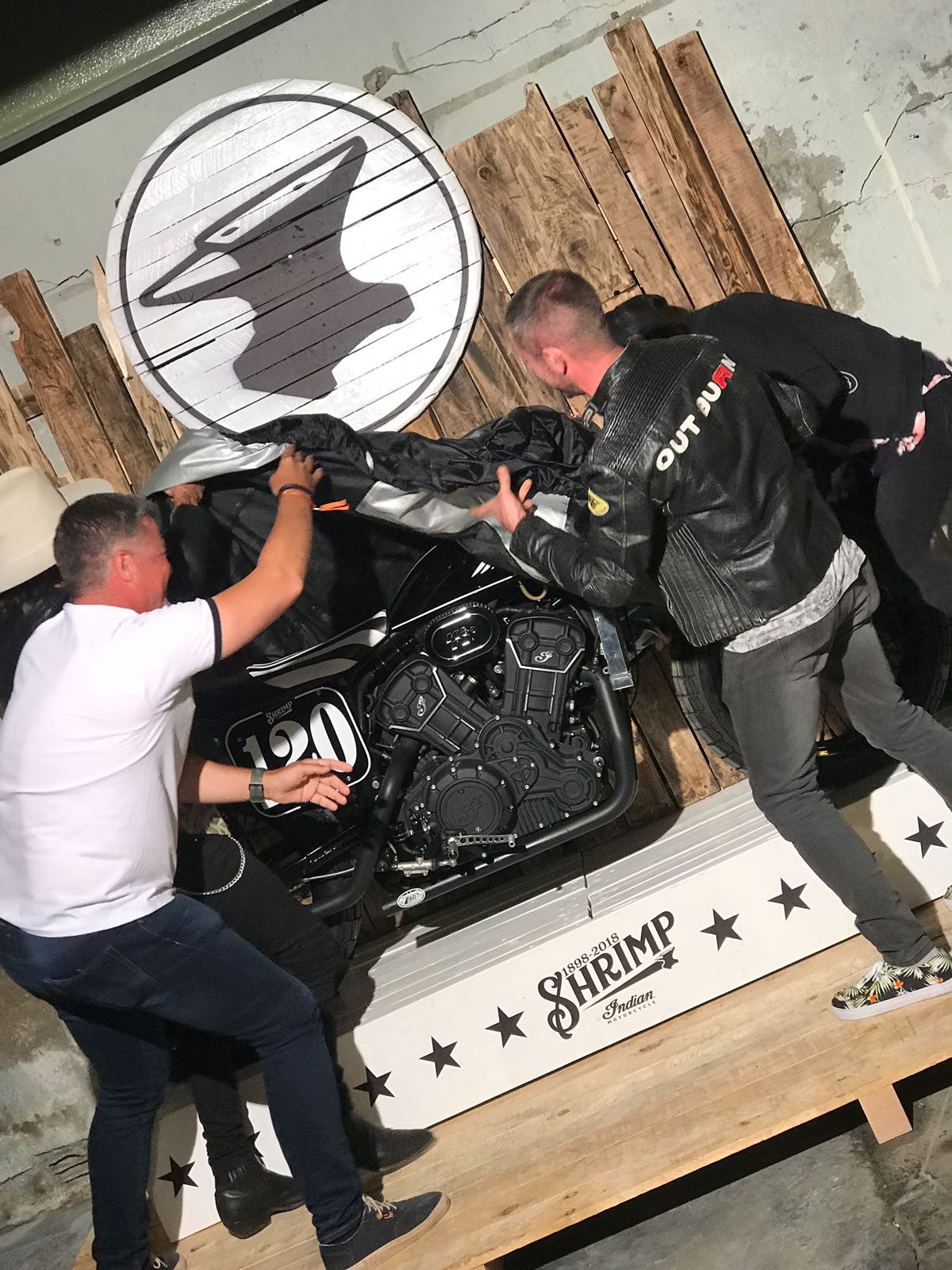 Emanuele says: "I am very excited to be involved in this amazing project and to race for an important brand such as Indian Motorcycle. This is an honour for me to retrace the story of a great rider. While Anvil Motociclette has focused on creating an amazing bike, my aim is to go beyond beauty and to race as fast as I can."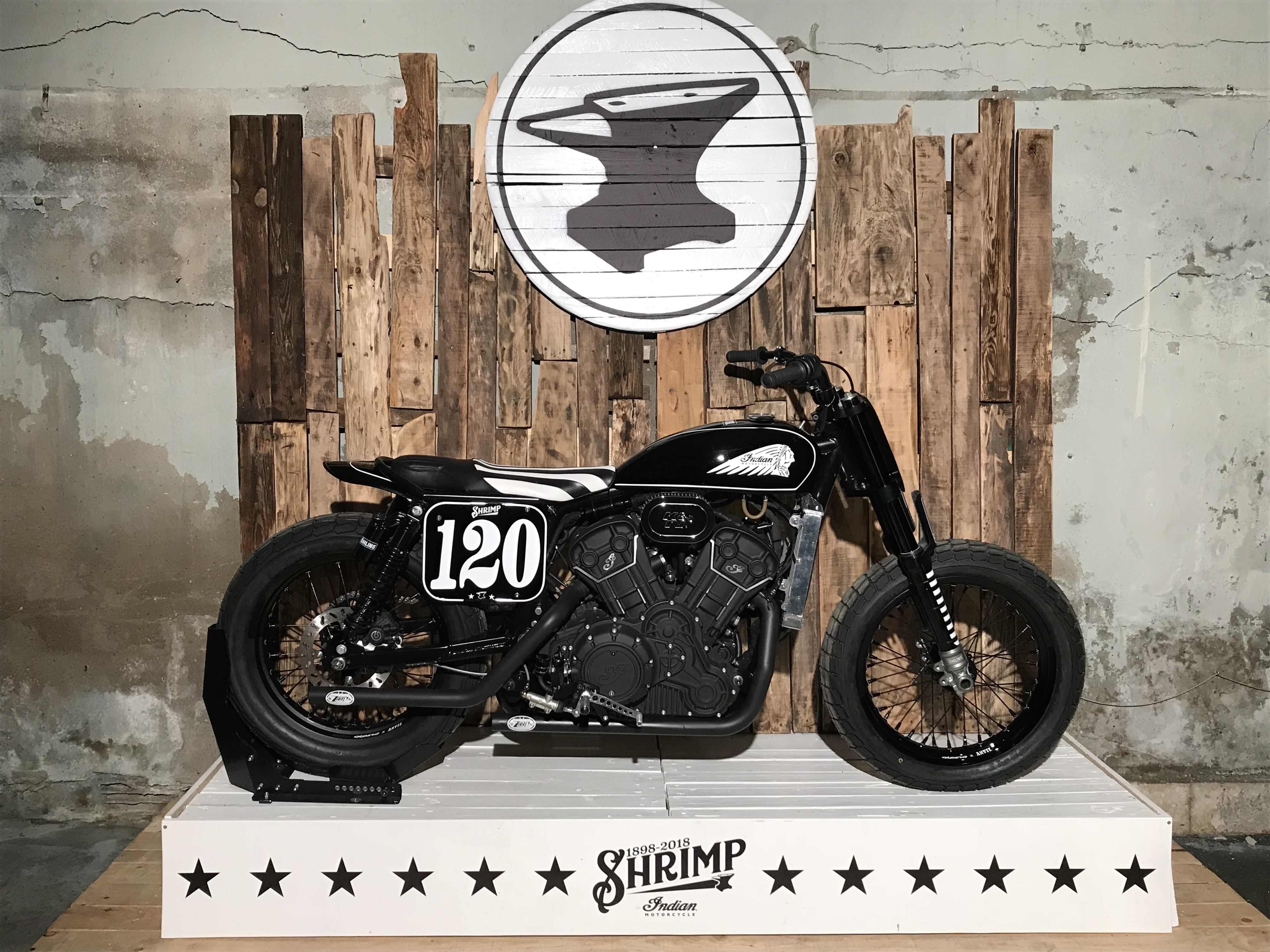 # # #
NOTES TO EDITORS
Anvil has also specially wrapped a van and trailer to transport 'Shrimp' around Wheels & Waves and allow people to see their creation.
For interview requests please email press@indianmotorcycle.media or call Dan Tye on +447471 030606.
Please give photo credit to Merry Michau.
# # #
ABOUT ANVIL MOTOCICLETTE
Anvil Motociclette is not just a garage, it is a creative studio and always aims to develop full projects following its own quality and beauty standards. Anvil always starts from history to create a story that describes their projects.
ABOUT ALBERT 'SHRIMP' BURNS
In 1912, when Albert was just 14-years-old, he built himself an Indian racing bike and began to take part in competitions alongside more experienced and adult riders. He started to win, which prompted his older rivals to complain about his age and small size (lighter on the bike). He was even turned away from some motordrome races, but the young Albert Burns did not lose heart and would climb the fences to make faces at some of the racers who had complained about him or he would sneak on to the track after the racing had started, and in some instances then go on to win the race. His short, thin size and cheekiness earned his the nickname "Shrimp". Shrimp's first appearance for Indian was the opening event of the 1920 season, a week of racing at Ascot Park that had 25 and 50-mile National Championships. He crashed on the 25-mile race at 107 mph, filling his hands and arms with splinters from the wooden board track. For the 50-mile race, Shrimp borrowed a teammate's Indian and took back to the track wrapped in bandages. He was behind the leaders for most of the race, but used the high banks to gather enough speed to pass on the final lap, winning with an average speed of 102 mph and breaking all existing records. Four months later Shrimp died in a race on August 14, 1921, in Toledo, Ohio just two days after his 23rd birthday. He connected the back of Ray Weishaar's bike while coming out of a turn and crashed into the railing. He later died of head injuries. Shrimp's fiancée, Genevieve Moritz, had come to deliver a birthday gift and witnessed the fatal accident.
ABOUT INDIAN MOTORCYCLE
Indian Motorcycle is America's first motorcycle company. Founded in 1901, Indian Motorcycle has won the hearts of motorcyclists around the world and earned distinction as one of America's most legendary and iconic brands through unrivalled racing dominance, engineering prowess and countless innovations and industry firsts. Today that heritage and passion is reignited under new brand stewardship. To learn more, please visit www.indianmotorcycle.eu.
MEDIA CONTACT
Dan Tye
PR Manager (EMEA)
Follow us on Twitter @IndianEMEA_PR
+44 (0) 7471 030606
press@indianmotorcycle.media