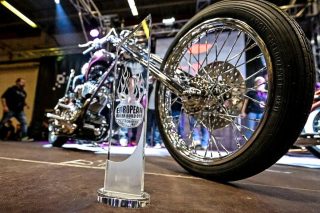 Indian Motorcycle Dealer Bike-Farm Melle wins top spot with a nearly 3:1 voting ratio
Last weekend, during the Custombike Show in Bad Salzuflen, Germany, the finals of the European Biker Build-Off saw Indian Motorcycle Dealer Bike-Farm Melle gain nearly three times the votes with their Indian Chief based Longfork Chopper "Purple Haze" over Harley-Davidson Bielefeld to take the title.
First held in 2007 and the highlight of the famous Custombike show, the European Biker Build-Off sees two teams competing to complete their custom bike in just three days, live, under the eyes of the trade show visitors. This year's title fight was even more exciting as both finalists come from the region, just 30km from each other: Bike-Farm, the Indian Motorcycle dealer from Melle and Reibchen + Stegemann the Harley Davidson dealer from Bielefeld.
From Friday to Sunday at noon, the creation of two extraordinary custom bikes could be followed on the show stage and by 1 pm on the Sunday, the time had come: Judgement Day. With 529 to 179 votes, nearly a 3:1 ratio, the audience chose Bike-Farm's 'Purple Haze' Indian Chief chopper as the clear winner.
"A classic long fork chopper based on the 2022 Indian Chief! It's absolutely stunning what the Bike-Farm crew has created here. This bike radically brings to flower the seeds that are at the core of the current Chief lineup: The spirit of the past combined with the technology of today." said Ola Stenegärd, Director of Industrial Design at Indian Motorcycle. "We always had the builders in mind during development and we worked really hard to make the reimagined Indian Chief a delight to work on. So, it's such a pleasure to see this great canvas used to create motorcycle art."
Not only has 'Purple Haze' been completely designed around the current air-cooled Thunderstroke 116 engine, it also still features all the electronic amenities of the original Chief Dark Horse from which it evolved: from ABS to GPS navigation, via the touchscreen of the original gauge now centered in the revised Chieftain tank.
Other core companets have also been adopted and adapted from the original bike such as the footrests and brake systems. The frame, with a full 48° rake, was manufactured by the Dutch experts VG Motorcycle Specials, and all other components are custom-made by the Bike-Farm crew: Sheet metal parts such as the tank cover with integrated gauge and GPS transmitter to the fender were created in-house just like the sissy bar, seat, wheels, handlebars, final drive, intake and exhaust system. Even the seal-less, oil-free fork with its Teflon-lubricated sliding tubes incorporating Progressive Suspension Cartridges. Finally, Lange Metallveredelung took care of the chrome surfaces, while Vossi Lackcenter Melle traditionally handled the finishing of the paint.
"The entire bike was created within just eight weeks," as workshop manager Tristan Frische recounts. "With four men, we wrenched, shaped and turned day and night. All the more we are delighted with this title. Not only have all the electronic features been retained, but also the fully road legal, including remaining Euro 5. So, this dream bike will soon be seen quite regularly on public roads."
In case anyone feels inspired to build their own Longfork Chief Chopper: the VG frame is available for order at Indian Motorcycle Melle, the Indian Chief, of course, at any official Indian Motorcycle dealer.
More information about the 'Purple Haze' and Bike Farm/Indian Motorcycle Melle can be found on www.indian-melle.de and on their social profiles at Facebook and Instagram.
For more information on Indian Motorcycle visit IndianMotorcycle.eu and follow along on Facebook, Twitter and Instagram.
Notes to Editors:
• Photos to be credited to Ben Ott (@benottfilm) and Fabrian Friese (@fabfri)
###
ABOUT INDIAN MOTORCYCLE®
Indian Motorcycle is America's first motorcycle company. Founded in 1901, Indian Motorcycle has won the hearts of motorcyclists around the world and earned distinction as one of America's most legendary and iconic brands through unrivalled racing dominance, engineering prowess and countless innovations and industry firsts. Today that heritage and passion are reignited under new brand stewardship. To learn more, please visit www.indianmotorcycle.eu
INDIAN and INDIAN MOTORCYCLE are registered trademarks of Indian Motorcycle International, LLC. Always wear a helmet, protective clothing and eyewear and insist your passenger does the same. Ride within the limits of the law and your own abilities. Read, understand, and follow your owner's manual. Never ride under the influence of drugs or alcohol.
ABOUT BIKE-FARM MELLE
What started in 1987 in a barn with a few friends has grown into a large company with highly specialized employees. Official Indian Motorcycle dealer since 2019, the 2,000-square-meter Bike-Farm is all about American V-twins. A constantly changing exhibition showcases custom bikes created on site, which regularly receive top marks in international competitions.
MEDIA CONTACT
Ian Austin
EMEA Press Indian Motorcycle
Follow us on Twitter @IndianEMEA_PR
+44 7471 030606
press@indianmotorcycle.media