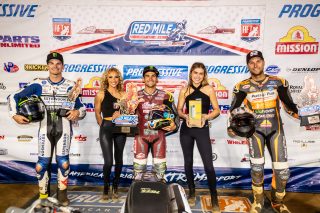 Reigning SuperTwins Champion Secures Second Consecutive Main Event Win,
Records 25th-Career Grand National Championship Mile Victory
Over Memorial Day weekend, Indian Motorcycle Racing and reigning American Flat Track (AFT) SuperTwins Champion Jared Mees earned their fourth win of the season with a first-place finish at the 2023 Red Mile in Lexington, Kentucky. The first-place victory represents Mees' second consecutive Main Event win and 25th-career Grand National Championship Mile victory.
Taking the front row of the night's Main Event was Dallas Daniels, Brandon Robinson, Bronson Bauman and Mees, who took the outside position. While Daniels took an early lead, Mees jumped into second aboard his Indian FTR750 coming out of turn one. On the second lap, Mees took an outside line to pass Daniels and take the lead. From there, it was Mees and young rival, Daniels, who continued testing each other for the lead. Mees sat tight in formation as he and Daniels sprinted into turn three on the final lap. Despite a couple small slides on the exit, Mees was able to hold on to the lead and reach the checkered flag four-hundredths of a second ahead of Daniels.
"We are thrilled to see Mees continue to grind out these wins," said Gary Gray, Vice President Racing, Service & Technology for Indian Motorcycle. "With Daniels and his team having an incredible season, anything less than a win will sacrifice his goal of tying Scottie Parker's nine career Grand National Championships. One win at a time, he's chipping away on the season's leaderboard."
Mees fourth win of the season gives him 164 points on the year, now just 16 points off Daniels and the lead. The 2023 AFT season will continue on Saturday, June 17, 2023, at the DuQuoin Mile in Du Quoin, Illinois.
###
ABOUT INDIAN MOTORCYCLE®
Indian Motorcycle is America's First Motorcycle Company®. Founded in 1901, Indian Motorcycle has won the hearts of motorcyclists around the world and earned distinction as one of America's most legendary and iconic brands through unrivalled racing dominance, engineering prowess and countless innovations and industry firsts. Today that heritage and passion are reignited under new brand stewardship. To learn more, please visit www.indianmotorcycle.eu
INDIAN and INDIAN MOTORCYCLE are registered trademarks of Indian Motorcycle International, LLC. Always wear a helmet, protective clothing and eyewear and insist your passenger does the same. Ride within the limits of the law and your own abilities. Read, understand, and follow your owner's manual. Never ride under the influence of drugs or alcohol.
MEDIA CONTACT
Ian Austin
EMEA Press Indian Motorcycle
Follow us on Twitter @IndianEMEA_PR
+44 7471 030606
press@indianmotorcycle.media