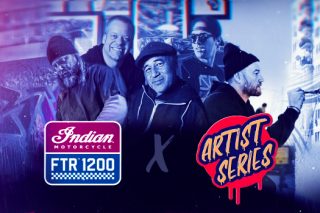 FRANCE (June 14, 2019) – Indian Motorcycle were at the Wheels & Waves Artride exhibition in Biarritz last night to unveil a unique line of limited-edition tank covers for the FTR 1200 and FTR 1200 S. With extremely distinctive styles from street graffiti to modern abstract, the FTR 1200 Artist Series allows owners to transform their bike into a piece of mobile fine art.
The collaboration with five world-renowned artists gave them the opportunity to express their artistic perspective while curating each piece to reflect their unique style. The result is a line of custom tank covers that is nothing short of astounding.
FTR 1200 Artist Series
To see a gallery of each design, please sign in with your existing account or register for access at www.indianmotorcycle.media/register
• Steve Caballero – "Cab Dragon" – Bold and colourful, containing elements from Caballero's past collection of sketches.
• RISK – "A New Day" – Draws inspiration from RISK's transition from graffiti artist to colour field artist.
• ThankYouX – "Meant To Tell You" – Inspired by the sense of freedom one feels when riding a motorcycle
• Adam Turman – "Rising From The Ashes" – A design with strong symbolism which gives a nod to the rich history of Indian Motorcycle
• D*Face – "The Devil Within" – Expressing the duality of riding motorbikes
As Indian Motorcycle's most-customisable platform to date, the FTR 1200 Artist Series takes customisation to another level with unique pieces of artwork in limited numbers for those who really want to express themselves.
For more information on the program, please see the official announcement from Indian Motorcycle HERE.
The FTR 1200 Artist Series tank covers will be available at select Indian Motorcycle dealerships. For pricing and availability, please contact your local Indian Motorcycle marketing specialist.
To find the nearest dealer, visit www.indianmotorcycle-intl.eu/select-country/
###
Notes for Editors
• Additional images are available to download at www.indianmotorcycle.media
• Sign in with your existing account or register for access at www.indianmotorcycle.media/register
ABOUT INDIAN MOTORCYCLE
Indian Motorcycle, a wholly owned subsidiary of Polaris Industries Inc. (NYSE: PII), is America's first motorcycle company. Founded in 1901, Indian Motorcycle has won the hearts of motorcyclists around the world and earned distinction as one of America's most legendary and iconic brands through unrivalled racing dominance, engineering prowess and countless innovations and industry firsts. Today that heritage and passion is reignited under new brand stewardship. To learn more, please visit www.indianmotorcycle-intl.eu/select-country/
EMEA MEDIA CONTACT
Ian Austin
EMEA Press Indian Motorcycle
Follow us on Twitter @IndianEMEA_PR
+44 7471 030 606
press@indianmotorcycle.media