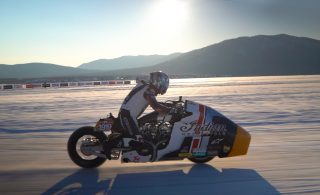 Russian Federation (April 3, 2020) – Indian Motorcycle and Workhorse Speed Shop took on the extreme Baikal Mile Ice Speed Festival in late February to give Appaloosa, the highly modified Scout Bobber sprint racer, the toughest of pre-season shakedown tests for its 2020 Sultans of Sprint comeback.
In only its second running, the Baikal Mile challenged competitors to reach maximum speed with their specially prepared vehicles on the frozen surface of the deepest lake on Earth, – Lake Baikal, Siberia.
"Racing on ice is hard, this is the most incredible thing I've tried to do. Coming here was a huge adventure for all of us and it was all about challenging ourselves, making new friends and having fun at the same time." – Brice Hennebert, Appaloosa Creator

"At this event there are bikes, you've got cars, a helicopter, a tank with a Bentley body. I mean, the craziness of the machines is just at the top level." – Sébastien Lorentz, Appaloosa v2.0 Rider
Head over to the Official Indian Motorcycle – Europe, Middle East and Africa YouTube channel to see the full story:
youtube.com/IndianMotorcycleEMEA
Closed caption subtitles are available in several languages on the video. Click the CC icon in the bottom right of the YouTube player to turn on subtitles and use the gear icon to choose your language.
Appaloosa can be followed across Indian Motorcycle social channels with the hashtag #IndianxWorkhorse.
Notes for editors
Post-event release and images available HERE
Additional images are available to download, sign in with your existing account or register for access at www.indianmotorcycle.media/register
More information on the 2020 Baikal Mile Ice Speed Festival can be found at baikalmile.com
###
ABOUT INDIAN MOTORCYCLE
Indian Motorcycle is America's first motorcycle company. Founded in 1901, Indian Motorcycle has won the hearts of motorcyclists around the world and earned distinction as one of America's most legendary and iconic brands through unrivalled racing dominance, engineering prowess and countless innovations and industry firsts. Today that heritage and passion are reignited under new brand stewardship. To learn more, please visit www.indianmotorcycle.eu.
 ABOUT WORKHORSE SPEED SHOP
Workhorse is the story of a passion. Brice Hennebert grew up surrounded by his father's motorcycles and was raised by a creative mother. Learning mechanics at an early age, Brice later trained as a graphic designer before opening a custom motorcycle workshop in 2012 with a like-minded bike fanatic. In 2016, Brice returned to the workshop of his childhood in Nodebais, Belgium to launch Workhorse Speed Shop. Workhorse provides a full range of services from accessory fitment through to complete custom builds. To learn more, please visit www.workhorsespeedshop.com
ABOUT AKRAPOVIČ
Akrapovič is a market-leading manufacturer of premium exhaust systems for motorcycles and performance cars. It is a pioneer in the innovative use of super-alloys and at the forefront of carbon components. Akrapovič exhaust systems are renowned for increasing performance, unmistakable sound, innovative design, lightweight construction, quality workmanship, and durability. Founded in Slovenia twenty-eight years ago by former motorcycle racer Igor Akrapovič, the brand has grown to international prominence through its successful support of racing teams that lead their class in many forms of premier motorsport. To learn more, please visit www.akrapovic.com
ABOUT ALPINESTARS
Alpinestars was established in 1963 and is the world-leading manufacturer of professional racing products, motorcycling airbag protection, high-performance apparel and technical footwear. Alpinestars understands that the best design and research is achieved under extreme conditions. Its involvement in Formula 1, NASCAR, AMA and World Motocross and MotoGP has led to the creation of the most advanced technical equipment for the racing world's top athletes. To learn more, please visit www.alpinestars.com
ABOUT BERINGER BRAKES
BERINGER is a French human-scale company which, for more than 30 years, develops and produces motorbikes brakes in a spirit of quality and performance. Our products range covers all models of motorcycles, from all brands from 1970 to our days. To learn more please visit www.beringer-brakes.com
ABOUT DUNLOP EUROPE
Dunlop Europe is one of the world's leading manufacturers of tyres with an impressive track record of motorsport successes. Dunlop Europe is a technical partner for two teams motorcycle Endurance World Championship Racing, the official tyre supplier to the FIM Moto2 and Moto3 World Championship and the most successful tyre brand in the history of the Isle of Man TT. Off-road, Dunlop is the choice of MXGP race winners and champions. On four wheels, Dunlop is the most successful tyre manufacturer in the history of the Le Mans 24h race. Please visit www.dunlopmotorcycle.eu
ABOUT EVOK3 PERFORMANCE LTD
EVOK3 is your one-stop partner for all your professional racing products. Being the Master Distributor for premium brands including Garrett turbos, AEM Electronics, G-Sport cats, Radium Engineering, Injector Dynamics, Vibrant Performance, Turbosmart and many more. Formed and run by engineers to help formulate the perfect match of products, to fulfil the requirements of racing teams and enthusiasts for the finest race bikes or cars. To learn more please visit www.evok3performance.com
ABOUT MOTOREX – Oil Of Switzerland
Manufactured to the highest standards in Langenthal, Switzerland, MOTOREX products are well-known around the world for their superior quality and performance. Founded by pioneer Arnold Bucher in 1917, the BUCHER-MOTOREX Group is an independent family-owned business that prides themselves on high-quality products and world-class customer care. To learn more, please visit www.motorex.com
ABOUT ÖHLINS
Öhlins Racing has been an integrated part of the motorsport industry as well as the motorcycle and automotive industry for 40 years. Our focus has always been on high-quality products, service and support, all the way from the MotoGP circuits to the local national racing events in over 50 distributing countries. Our philosophy has always been to supply the aftermarket, OEM partners and teams with high-end suspension technology and we are all dedicated to exceed our customer's expectations throughout the world. To learn more, please visit www.ohlins.com
MEDIA CONTACT
Ian Austin
EMEA Press Indian Motorcycle
Follow us on Twitter @IndianEMEA_PR
+44 7471 030 606
press@indianmotorcycle.media