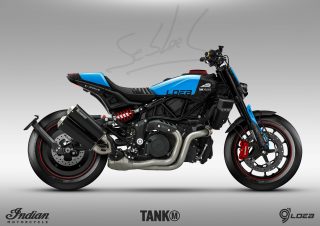 'FTR Loeb' celebrates Loeb's nine World Rally Championships & his passion for motorcycles
Winner to be presented with their 'FTR Loeb' during a VIP trip to Wheels & Waves
Matching pair of the design to be built – one for Loeb & one for the winner
Indian Motorcycle has announced a test ride campaign that will see one lucky winner presented with one of just two special Indian FTR custom machines designed by Sebastien Loeb and built by renowned French builder, Tank Machine. Making this prize even more exclusive, the second of the two unique FTR 'Loeb' machines to be built will be presented to Loeb himself, making this a truly special and unique prize.
'FTR Loeb' - Sébastien Loeb X Tank Machine Add All
---
Between February 8th and May 15th, riders in participating countries can qualify for this once in a lifetime chance by registering online, selecting an Indian Motorcycle dealer, and visiting that dealer to take a test ride on any model from the Indian FTR lineup.
From World Rally to World Touring Cars, Pikes Peak to the Dakar Rally, Rallycross to Xtreme E and more, Sébastien Loeb's exceptional career has seen him display his legendary skills across a multitude of disciplines while setting records along the way. What is less known is that Sébastien Loeb discovered his passion for motorsports in regional moped events before trying his hand at motorcycle racing on circuits and in enduro.
Although more often seen behind the wheel, Loeb loves to ride motorcycles on the road or track whenever he can, and since collaborating with Indian Motorcycle in February 2022 as an ambassador for the brand, has been an enthusiastic rider of his Indian FTR R Carbon.
"Motorcycling has always been a passion of mine and my career could have been so different if the right opportunity in motorcycle racing had presented itself before my move to four wheels. Riding is a unique experience, a whole different world of sensations compared to driving a car, and the FTR was just the perfect choice for me," said Sébastien Loeb.

"I've become a big fan of the FTR's unique style and performance, so to be asked to create a one-off build with Tank Machine was a real honour. I can't wait to see the finished bike and I am sure the winner will love their FTR as much as I will."
Celebrating his nine World Rally championships and his passion for motorcycles, Loeb and Tank Machine have envisioned the 'FTR Loeb' as a unique interpretation of the American V-twin which Tank Machine will now bring to life in metal and paint over the coming months.
Tank Machine and Indian Motorcycle have regularly collaborated on many projects since the creation of the Super Scout in 2016, which was also presented to a competition winner.
The lucky winner will be randomly selected at the end of May ready to be whisked away on a VIP trip to Wheels & Waves in June, meet the Tank Machine team, and be presented with their 'FTR Loeb'.
Participating Countries / Registration Links:
Austria https://www.indianmotorcycleaustria.at/ftr-loeb-form/
Belgique
FR https://www.indianmotorcyclebenelux.com/fr/ftr-loeb-form/
FL https://www.indianmotorcyclebenelux.com/fl/ftr-loeb-form/
Cyprus https://www.indianmotorcyclecyprus.com/ftr-loeb-form/
Czech Republic https://www.indiancz.cz/ftr-loeb-form/
France https://www.indianmotorcycle.fr/ftr-loeb-form/
Germany https://www.indianmotorcycle.de/ftr-loeb-form/
Hungary https://www.indianhungary.hu/ftr-loeb-form/
Luxembourg https://www.indianmotorcyclebenelux.com/lu/ftr-loeb-form/
Netherlands https://www.indianmotorcyclebenelux.com/ftr-loeb-form/
Poland https://www.indianpoland.com/ftr-loeb-form/
Portugal https://www.indianmotorcycle.pt/ftr-loeb-form/
Romania https://www.indianmotorcycle.ro/ftr-loeb-form/
Slovakia https://www.indiansk.sk/ftr-loeb-form/
South Africa https://www.indianmotorcycle.co.za/ftr-loeb-form/
Spain https://www.indianmotorcycle.es/ftr-loeb-form/
Switzerland
CH-DE https://www.indianmotorcycle.ch/ftr-loeb-form/
CH-FR https://www.indianmotorcycle.ch/fr/ftr-loeb-form/
CH-IT https://www.indianmotorcycle.ch/it/ftr-loeb-form/
UK https://www.indianmotorcycle.co.uk/ftr-loeb-form/
Notes to Editors – Photo credits DPPI-FrayMédia and Thomas Cortesi
For more information on Indian Motorcycle visit IndianMotorcycle.eu and follow along on Facebook, Twitter and Instagram.
###
ABOUT INDIAN MOTORCYCLE®
Indian Motorcycle is America's First Motorcycle Company®. Founded in 1901, Indian Motorcycle has won the hearts of motorcyclists around the world and earned distinction as one of America's most legendary and iconic brands through unrivalled racing dominance, engineering prowess and countless innovations and industry firsts. Today that heritage and passion are reignited under new brand stewardship. To learn more, please visit www.indianmotorcycle.eu
INDIAN and INDIAN MOTORCYCLE are registered trademarks of Indian Motorcycle International, LLC. Always wear a helmet, protective clothing and eyewear and insist your passenger does the same. Ride within the limits of the law and your own abilities. Read, understand, and follow your owner's manual. Never ride under the influence of drugs or alcohol.
ABOUT SÉBASTIEN LOEB
Sébastien Loeb, the man of all motorsport records. Nine-time world champion in the WRC World Rally Championship, reigning supreme by accumulating 80 victories and 120 podiums. His talent was also expressed in other territories with four podiums in 2017, 2019, 2022 and 2023 on the Dakar. He had an exceptional season in 2022, winner of the Monte Carlo rally in the WRC, winner of the race of champions, winner of the Extreme E championship. His last achievement, with six consecutive stage victories in the Dakar 2023, he holds a new record historical.
From snowy roads to dunes, Sébastien keeps this thirst for winning on all terrains. His career was mainly built around the rally disciplines, but he has shown himself to be talented on the circuit achieving a second place at the 24 hours of Le Mans in 2006 and in the World Touring Car Championship where he won no less than 6 victories. In 2013, the Alsatian set the Pikes Peak record which he will keep for 5 years. His latest feat, his victory last January in the Monte Carlo Rally.
ABOUT TANK MACHINE
Clément Molina founded Tank Machine in 2015 with a focus on motorcycle design, customisation and the development of Plug & Play Kits. Already well known for his many outstanding customisations of Indian Motorcycle models, his 'GRIND Machine' submission for the Indian Chief Design in 2022 beat strong competition to become the winning concept which was presented as a prize bike at Wheels & Waves the same year.
MEDIA CONTACT: INDIAN MOTORCYCLE
Ian Austin
EMEA Press Indian Motorcycle
Follow us on Twitter @IndianEMEA_PR
+44 7471 030606
press@indianmotorcycle.media
MEDIA CONTACT: SÉBASTIEN LOEB
FrayMédia – Amandine Chêne
+33 06 25 17 07 10
amandine.chene@fraymedia.fr