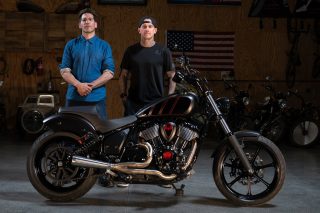 Subtle styling with a focus on handling and performance
Indian Motorcycle, America's First Motorcycle Company, has revealed the custom Indian Chief built by Carey Hart for actor Jon Bernthal, the third and final build commissioned to showcase the vast customisation possibilities of the all-new Indian Chief.
As a former freestyle motocross competitor and motorcycle racer, Carey's builds are inspired from his MX world.
"I love performance, I love going fast, turning fast, and braking hard," said Carey. "I don't sacrifice anything on my bikes that are going to jeopardise their handling, how it performs, or my safety. I was really excited to hear about the new Chief when it was announced, that they were sticking to the old aesthetic, you know, dual shocks, triangular steel frame, the stance of the bike, how the bike handles, the power. These 116 motors are no joke, these things run like a champion and the bike really lends itself to customising and making it your own."
To steer the direction and build the perfect bike, Carey got to know Jon prior to, and during the build so that he could understand his influences and what he's interested in. The ergonomic setup was also helped by the fact that Jon and Carey are of very similar height and size allowing Carey to size up the riding position himself, "I just wanted him to fit in the bike like a glove," said Carey.
Jon commented, "I was immediately blown away by how good a guy he is. I knew I was doing this with one of the best in the world. So, it's just like trusting his expression, getting to know me, what kind of guy I am and the things that are important to me. And that's what really interested me about this opportunity."

"There's so much that excites me about it. The basic setup of it is perfect. Where the handlebars sit, how he's lifted it a little bit. I wanted it to be kind of exactly what it is. I wanted it to be humble but elegant. I didn't want the bike to draw too much attention to itself but when you looked at it a little bit closer you realised how special it is. I think it's beautiful. I can't imagine a more perfect bike. I can't believe that I get to ride this thing."

"To be honest, this is the first time I've built a motorcycle for someone else, so it was definitely a little bit of a nail biter." said Carey. "Seeing his excitement over the motorcycle, seeing his appreciation for the time that me and Big B put in on the motorcycle and just knowing that he's genuinely, genuinely happy about the bike and that the bike is going to see a lot of road miles, that was just the big payoff for me."

"I'm really happy with the motorcycle. I wanted the bike to handle well, I wanted him to be comfortable in the saddle. I wanted him to just be able to be one with that motorcycle. I think with the end result, both visually and how the bike stands and sits, I feel like I really accomplished that."
Hart-Bernthal Build Spec
• Kraus bar clamps, risers, and gauge bracket
• ODI Bars & ODI/Hartluck Lock on grips
• Pro Bolt titanium hardware
• Drag Specialties license plate bracket
• Custom lower frame cover
• Beringer front brake master & clutch perch
• Barnett clutch cable
• Galfer front brake line
• Beringer front and rear brake calipers
• Galfer front and rear brake rotors
• San Diego customs wheels
• Dunlop tyres
• San Diego customs shift/brake pegs
• Saddlemen Hart Luck seat
• Rizoma Mirrors
• Rizoma Rear brake lights & front indicator lights
• Airtrix paint
• Fox piggyback shocks +1 inch
• Custom machined inspection cover
• Fab 28 2-into-1 stainless exhaust
• Rokform phone mount
• GP suspension for revalve
For more from Jon and Carey, see the videos below. For more details of the two previous Indian Chiefs in the series, see the press releases linked below:
Indian Motorcycle Chief Custom By Paul Cox & Keino Sasaki
Indian Motorcycle Brat Style Chief By Go Takamine
For more information on Indian Motorcycle visit IndianMotorcycle.eu and follow along on Facebook, Twitter and Instagram.
###
ABOUT INDIAN MOTORCYCLE®
Indian Motorcycle is America's first motorcycle company. Founded in 1901, Indian Motorcycle has won the hearts of motorcyclists around the world and earned distinction as one of America's most legendary and iconic brands through unrivalled racing dominance, engineering prowess and countless innovations and industry firsts. Today that heritage and passion are reignited under new brand stewardship. To learn more, please visit www.indianmotorcycle.eu
INDIAN and INDIAN MOTORCYCLE are registered trademarks of Indian Motorcycle International, LLC. Always wear a helmet, protective clothing and eyewear and insist your passenger does the same. Ride within the limits of the law and your own abilities. Read, understand, and follow your owner's manual. Never ride under the influence of drugs or alcohol.
MEDIA CONTACT
Ian Austin
EMEA Press Indian Motorcycle
Follow us on Twitter @IndianEMEA_PR
+44 7471 030606
press@indianmotorcycle.media